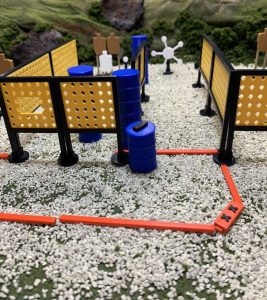 FGS Engineering specializes in 3D printing and CNC manufacturing utilizing polymers, carbon fiber, and aluminum for a wide variety of commercial and personal applications. We are proud to produce a 100% American Made product at an affordable price.
***NEW*** 3D Stage Design Builder's Kit (USPSA Version) ***NEW***
Our 3D Stage Design Builder's Kit features over 200 pieces and is the easiest way to get a stage put together without the hassle of learning CAD or fussing with MS Word templates! This kit provides you the ability to design nearly any course you want from a 36 round field course to a quick "hoser", or even a simple standards course.
Expand your kit by choosing extra targets, props, or walls, or fault lines from our extensive catalog of parts at an affordable price.
Most Popular
Newest Items
Reloading Accessories
Firearm Accessories
Subscribe to our Newsletter to find out when sales and new products are released. We average 3-4 new products per month so don't miss out!
Most orders ship in 24-48 hours for in-stock items. Some items are printed on-demand and have a 1-3 day lead time. If there is a delay longer than 3 days, we will contact you as soon as possible.
Thank you.